Royal Ontario Museum Exhibit, Sigmund Samuel Gallery of Canada
"Being Japanese Canadian: reflection on a broken world" February 2 - August 5, 2019
It has taken me seventy-four years after WWII, thirty-two years after the government's Acknowledgement and Apology, to come to terms with who I am… a Canadian of Japanese heritage. Having my art in the Royal Ontario Museum's iconic exhibition "Being Japanese Canadian: reflections on a broken world" in 2019, was a turning point in my life. By interspersing the artwork of eight Japanese Canadian artists in the Sigmund Samuel Gallery of Canadian history, I finally felt that our story is an important part of the history of Canada. My portrait of my mother in city clothes, behind a barbed wire fence in Alberta, was the signature image for the exhibition.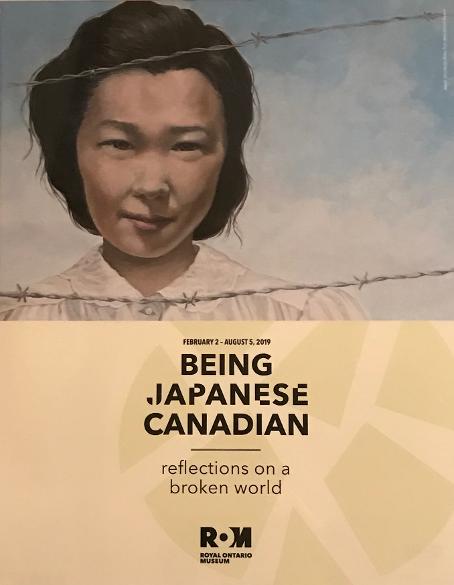 The following were the eight artists in the exhibition. Two Japanese Canadians were guest curators - Bryce Kanbara and Dr. Katherine Yamashita.
Lillian Michiko Blakey is a third generation Japanese Canadian, based in Newmarket, whose family came to Ontario in 1952. The first in her family to graduate from university, she became a teacher, educational consultant, and professional artist. She is the past President of the Ontario Society of Artists, with paintings in the collections of the Government of Ontario and the Nikkei National Museum in Burnaby, BC.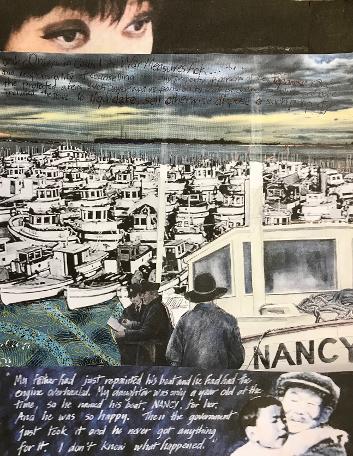 Taking the NANCY, British Columbia 1942 Mixed media on canvas 2012
I look on the scene below and feel my grandfather's pain. Nitaro Hamaguchi immigrated to Canada in 1900 and became a Canadian citizen in 1907. He was a salmon fisherman. Days after Pearl Harbour was bombed, his fishing boat was impounded by order of the Canadian government. He had just returned from a long fishing trip and had overhauled and painted his boat, renaming it the NANCY, after his one-year-old granddaughter. The boats were auctioned off, and of the thousands of Japanese Canadian fishermen who made financial claims, only ninety-five were awarded a paltry $207.84. He received nothing.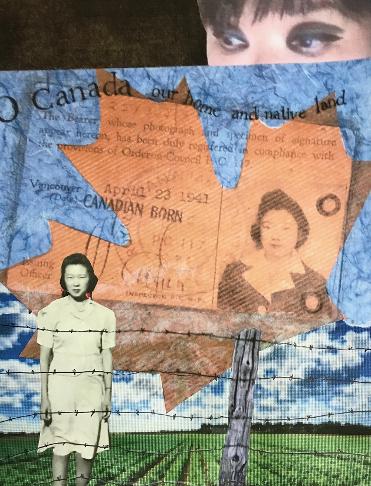 O Canada, Our Home and Native Land, Alberta 1943 Mixed media 2012
My Canadian-born mother, Lillie Reiko Hamaguchi, became an "enemy alien" when the Government of Canada passed the War Measures Act. Her family lost their home in Vancouver, their livelihood, all their possessions. They were forced to relocate to Alberta and back-breaking labour in the sugar-beet fields.
I look back in time at my mother. Strangely she is smiling, in spite of the awful living conditions. Perhaps smiling was a reflection of her Japanese heritage – the acceptance of whatever life brought.
A common saying was Shigata ga na – It can't be helped.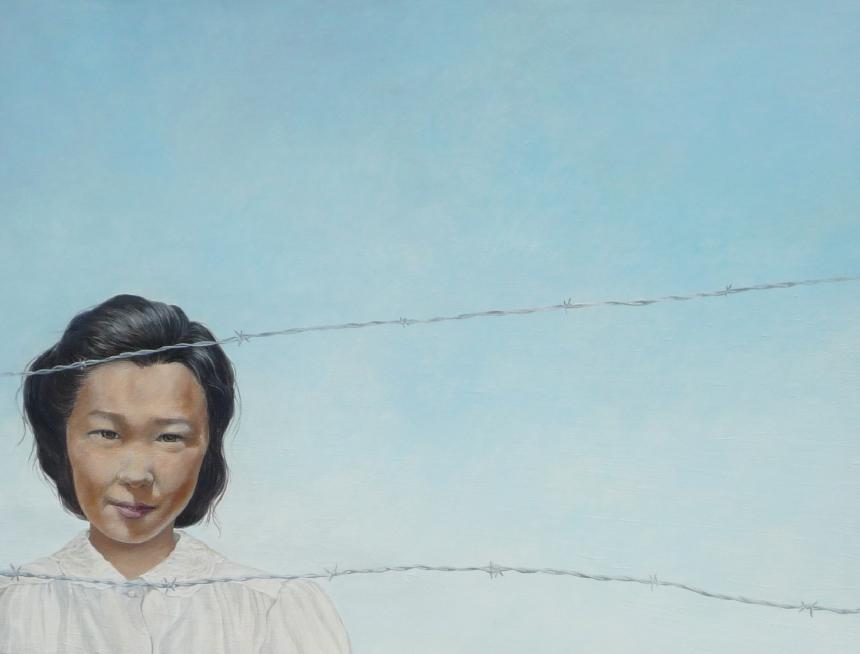 Reiko, Alberta 1945 Acrylic on canvas 36"x48" 2009
In February 1942, the government announced the forced evacuation of all 21,000 people of Japanese heritage living within 100 miles of the Pacific Coast. As a result, 2,700 Japanese people were sent to Alberta where labourers were needed in the sugar beet fields.
My mom and her family endured horrible living conditions and were forced to do gruelling physical labour in the sugar beet fields from dawn until dusk.
In September, 1942, the restrictions placed on the Japanese-British Columbians were also applied to the Japanese-Albertans: their mail and telephone calls were censored, and they were forced to carry identity cards.
David L. Hayashida is Sansei, a third-generation Canadian living in Kings Point, Newfoundland and Labrador. He is a ceramic artist who works with his partner, Linda G. Yates. Their inspiration is drawn from a wide range of interests – Newfoundland history, climate change, whales, and geology. Recently David has begun exploring the personal impact of his family's Japanese Canadian history.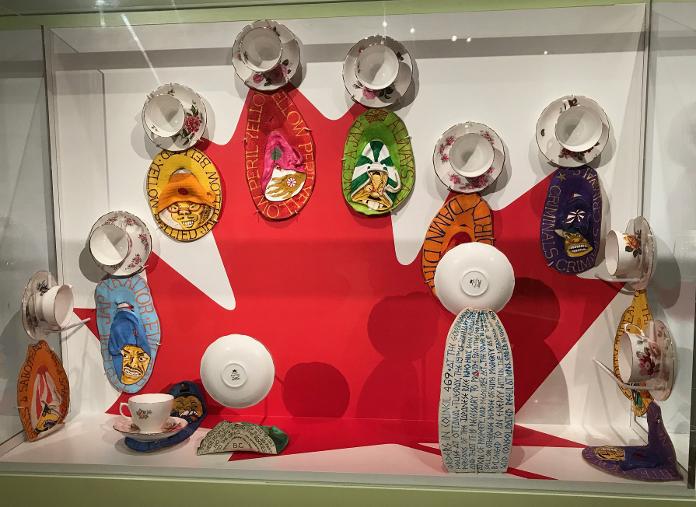 Low Tea in '43 (British Columbia) Still Boils, mixed media on stoneware,2017
It hurts deeply knowing these words and this imagery were used to describe people in my family. I created these clay shadows, cast buy made-in-England porcelain, to reference the awful truth: words and images taken from political cartoons in newspapers and magazines, propaganda posters, and historical records of the incarceration of Japanese Canadians. The teacups and saucers are the type I imagine were used at government meetings in the 1940s. Generations suffered because racism was considered acceptable in the highest levels of our Canadian government. The maple leaf on an angle represents a nation breaking its promises to its citizens.
Emma Nishimura uses diverse media to address ideas of memory and loss rooted within family stories and inherited narratives. Her work includes traditional etchings, archival pigment prints, drawings, and installations. Found in public and private collections, these have been exhibited nationally and internationally. Based in Toronto, Emma teaches at the University of Guelph and OCAD University.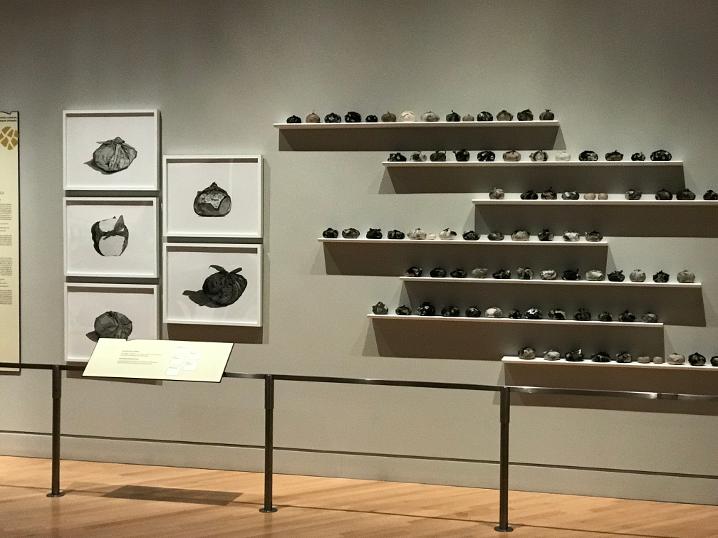 Oral History Narrators for Collected Stories: Terry Idenouye,
Lillian Michiko Blakey, Harold Miwa, Frank Moritsugu, Keo Shibatani
An Archive of Rememory and Collected Stories
Collected Stories: etching and hand painting on gampi paper with wax and thread, 2017 to present
An Archive of Rememory: Photo etching on flex and abaca paper, 2016 to present
Drawn to the complicated narrative of the incarceration of Japanese Canadians, the work explores how these memories have been stored and packed away. For how does one sort, contain and navigate the weight of individual memory? How does trans-generational memory get passed on? Inspired by a traditional form of Japanese wrapping known as furoshiki, I have layered Family stories into the fold of a wrapping meant to carry or protect. Using photographs and oral histories from Japanese Canadians, the work has become a library of their memories – acknowledging the stories that have been shared, kept silent or forgotten.
Steven Nunoda is a multidisciplinary artist based in Calgary, Alberta. His practice centres on extended research projects dealing with questions of material-as-metaphor, family life, culture and place, memory and identity. His sculpture and installation work incorporate miniatures, woodcarvings, constructions, digital imaging and output, text, and time-based strategies.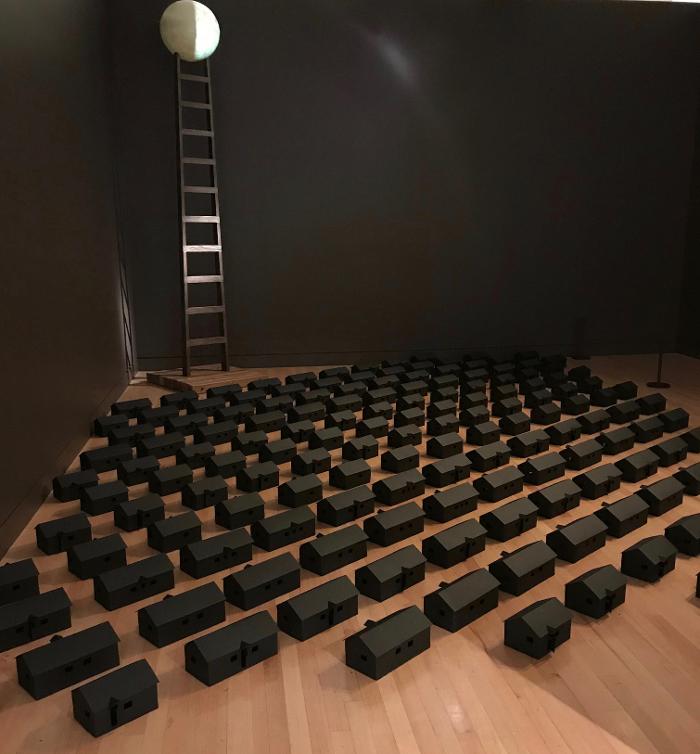 Ghostown & Ladder to the Moon mixed media installation, 2013
The Ghostown piece is intended to both memorialize the camps and pay homage to the struggles and aspirations of the 22,000 internees. Each time the pieces shown, volunteers help assemble the miniature tarpaper models in this installation, recalling the cramped shacks hurriedly built by Japanese Canadian workers for their own incarceration. Ladder to the Moon represents hope, in reference to a conversation I had with my daughter when she was small, where she wondered if it would be possible to build a ladder to the moon.
Laura Shintani is a multimedia artist based in Toronto, who believes the viewpoint of the audience is key. She is interested in seeing people embrace the cycle of creativity – playing, problem solving, and reflecting. She hopes her audiences might be inspired to artistic expression and make a difference. No topic is taboo. Shintani encourages others to follow ideas that garner goodwill.
Mission 42 Mixed media conceptual artwork and supporting ephemera, 2012 - Present
Guided by a dream full of urgency and purpose, I welcomed the Emissaries into my life. They told me they would appear if my hands would help form the reality of their spirit. I made twenty-two 'Emissaries" that were 'planted' throughout Vancouver and its environs in specific 'lost' historic Japanese Canadian communities. Each one represents 1,000 of the 22,000 internees. '42' stands for 1942, the first year of the internment. The tasks of the Emissaries are to make contact, collect information, offer a gift, return home, and tell the story of the Japanese Canadians. Many returned home with gifts. Some remain at large. The doll-like appearance is intended to make a tragic history approachable for younger generations to question and not feel alienated. The blank eye follows from the tradition of the Japanese drama doll, where only one eye is painted and the other is filled in when a set task has been accomplished.
Norman Takeuchi has very early memories of the interior of British Columbia, where his parents were forced to relocate from Vancouver during World War II. A graduate of the Vancouver School of Art, Takeuchi went to London, England in 1967, to concentrate on painting with support from the Canada Council. He left an exhibition design career in 1996 to focus on art. Takeuchi lives in Ottawa, Ontario.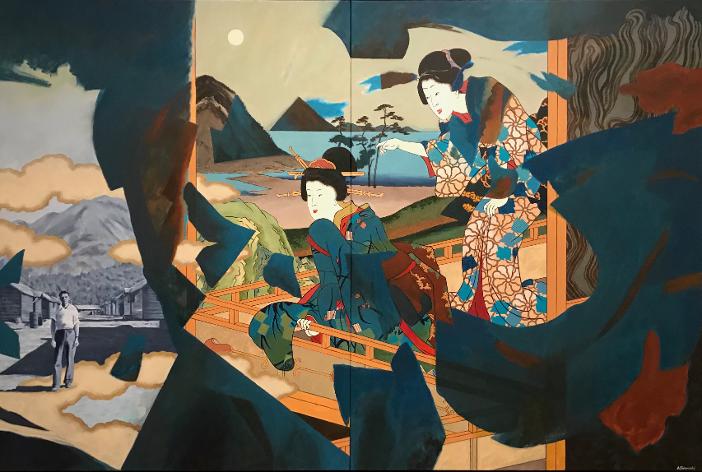 Interior Revisited Acrylic on Canvas, 2012- 2017
The duality of being Japanese Canadian is at the heart of my work. Having experienced the upheaval of the internment years, my art reflects conflicting views: the difficulties of acknowledging and accepting my Japanese heritage. I chose to reflect this dilemma by integrating my predominantly abstract paintings with images from traditional Japanese woodblock prints. Thoughts and images of the 'camps' are never far away; they find their way into my work. Ultimately, the paintings celebrate my dual heritage and my learning to embrace the blended beauty of two cultures.
Marjene Matsunaga Turnbull is a second-third generation Japanese Canadian, Nisei-Sansei. Well aware of prejudice while growing up, Turnbull focuses on the anger and hurt of racism in her sculptures. Turnbull tries to resolve cultural conflict within and without Japanese Canadian society in her work – to present ethnic, social, historical, and political commentary. Turnbull lives in Onoway, Alberta.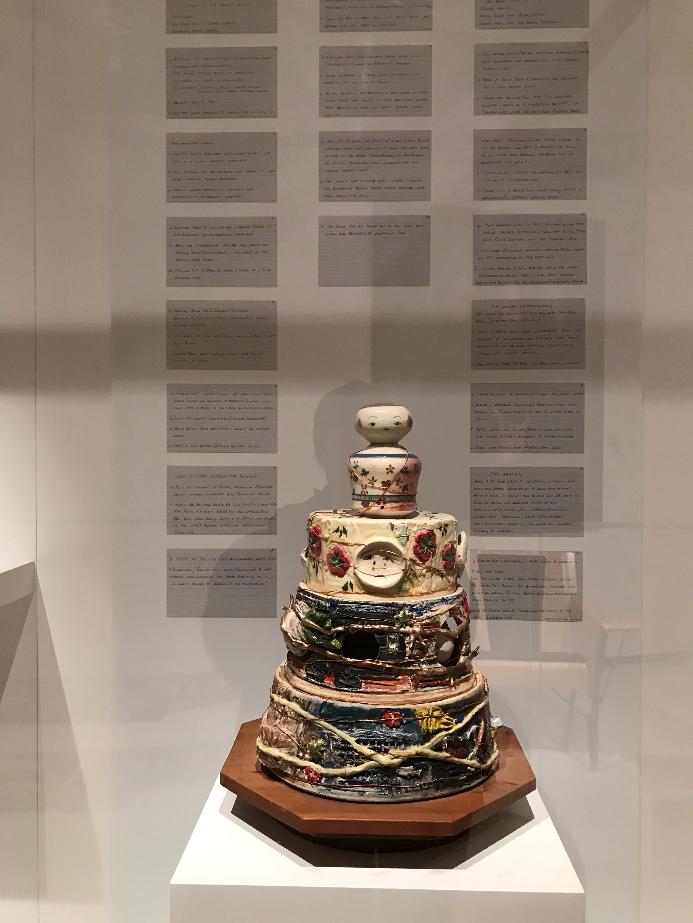 Continuum: A Japanese-Canadian Cake History Mixed media clay, 1992
'Continuum" resembling a layered cake, describes the history of Japanese Canadians and my personal family history before and after internment and dispossession. Each layer of my clay sculpture invokes multiple symbols and histories. The bottom describes immigrant experiences; the middle is about dispossession and internment; the top is about the struggle for Redress - highlighting the resilience of Japanese Canadians. The top features a kokeshi doll, symbolizing future generations.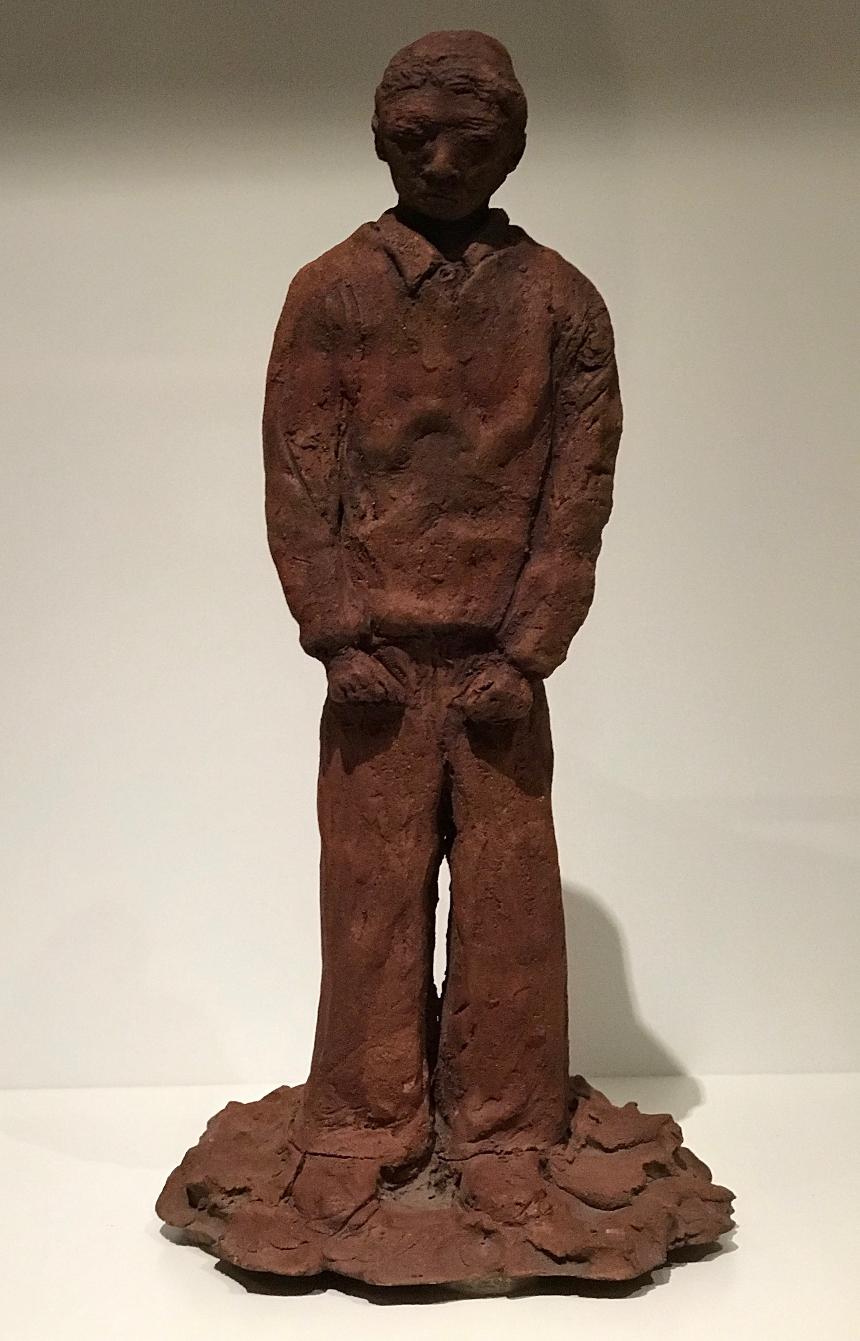 Jerry, Army Cadet Unglazed clay, 2000
Jerry, Army Cadet is a clay sculpture of my Uncle Jerry Hisaoka. As a teenager, he had to give up his rifle and uniform of the Canadian Army Cadets. The loss of dignity and humiliation was made public at a school assembly. Jerry later was one of the Lethbridge representatives of the National Association of Japanese Canadians (NAJC) working towards Redress. He recalled in the 1990s "I always felt we had to do something. I believed that the government had to address the wrongs committed in 1942.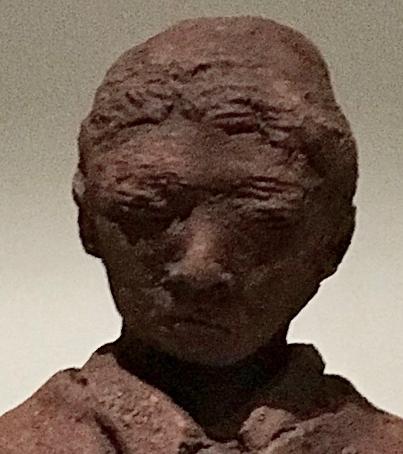 Yvonne Wakabayashi spent her early childhood in an internment camp with her family in the interior of British Columbia. Returning to post-war Vancouver, she earned a Master's degree in Education and spent many years as a textile teacher while developing her art practice. Wakabayashi's work blends ancient Japanese cultural traditions with modern ideas. Wakabayashi lives in Burnaby, British Columbia.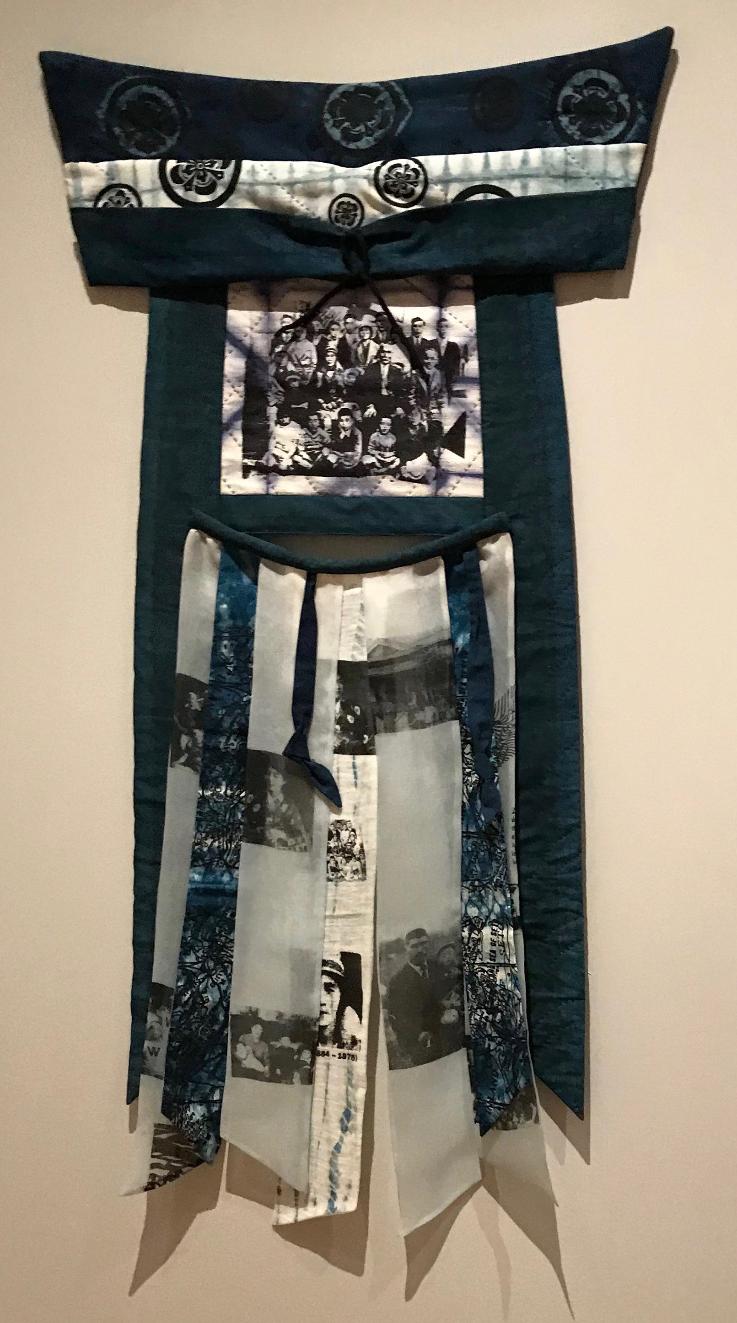 Tribute Mixed Media Textiles, 2017
My family and ancestral history have guided me and permeate my work. Our crest, indigo shibori tie-dye process, and sahiko stitching, combined with family images, are embedded with memories. So my work combines cultures of east and west, old and new, inspired by my Japanese heritage. This piece is a tribute to how my parents, Koji and Ayame Tasaka, endured and rebuild our family's lives. One key inspiration was my mothers practice of ikebana and chanoyu, which she brought to Canada as an immigrant. I also honour Japanese Indigo Master and shibori artist Hiroyuki Shindo.
Redress
It took decades for Japanese Canadians to leave behind the ashes of almost total annihilation.
A small group who had formed the National Association of Japanese Canadians, under the leadership of Art Miki, had been negotiating with Prime Minister Brian Mulroney for a Redress agreement for the wrongs that the Canadian government had committed against Japanese Canadians during WWII. On September 22, 1988, after running into roadblock after roadblock, we began to rise out of the ashes.
That was the day that Prime Minister Mulroney and NAJC President, Art Miki, signed the Redress agreement in Ottawa.
"We cannot change the past. But we must, as a nation, have the courage to face up to these historical facts." The Right Honourable Brian Mulroney (1988)